PR-Campaign "The Symphony Nr. 9 for the future" with DAIKU-Videos
Invitation to partake in "The Ninth Symphony from Home"
In order to continue the annual tradition of performing the Ninth on the 1st Sunday in June every year, the City of Naruto is gathering recordings of the singing of the Ninth. We plan to upload the received recordings to YouTube on June 6th at 1:30 PM.(https://youtu.be/-eZW5oPTXJ8)
Let's all sing the Ninth together on June 6th!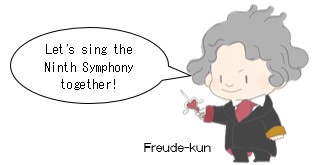 【Campaign period】
April 30th ~ May 20th 2021
【Procedure】
◆Please record your singing of the "Ode to joy" of the 4th movement of the Ninth Symphony in accordance with the audio files provided. Alternatively, we also welcome musical performances (instrumental) of the part presented in the audio file.
Your voice should be loud and clear (while recording please play the Audio file via headphones). Language: German; you may sing any part you want.
(The audio file includes bars 525-594)
♪Audio file(all parts MP3 / 2.5 MB)
♪Audio file(Soprano - MP3 / 2.5 MB) ♪Audio file(Alto - MP3 / 2.5 MB)
♪Audio file(Tenor - MP3 / 2.5 MB) ♪Audio file(Bass - MP3 / 2.5 MB)
♪Score and lyrics(PDF, German)
There is also a helpful conductor video provided below:
(Conductor: Prof. Toshihide Koroyasu, Naruto University of Education
♪Video (all parts - MP4 / 170MB)
♪Video (Soprano - MP4 / 173MB) ♪Video (Alto - MP4 / 172MB)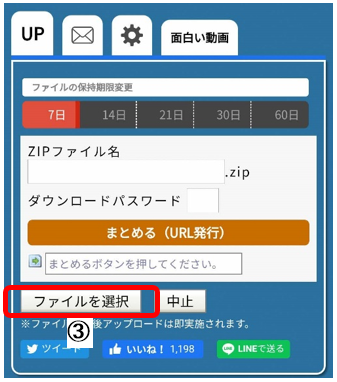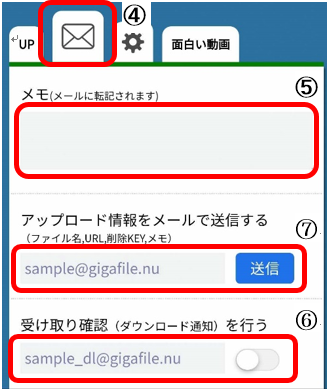 ◆Please send your recording via "Gigafile便" (a free file-sharing service) to: bunkakoryu@city.naruto.i-tokushima.jp
※File-Sharing Manual (homepage in Japanese only)
Record your singing (

horizontally!

)
Open the Gigafile便 homepage (https://gigafile.nu)
Upload your file to the Gigafile servers
(Click the following button to select a file:ファイルを選択)
Open the Mail tag
Insert your address (if you live outside of Japan, please write your country), your contact address and the name you wish to have on display (anonymous display or aliases are allowed!)
(If you are part of a chorus, band etc., please add the name)
Insert "bunkakoryu@city.naruto.i-tokushima.jp" here
Send your file by pushing the blue (送信) button
(the sender will be required to pay any costs arising)
【Notice】
◆If you use a smartphone, please record horizontally!
◆In general: Recording of the head and upper body, special poses etc. allowed. A cropping or shortening of the original files might occur during editing.
◆By partaking you give consent for distributing your recording and your name (or alias).
◆The City of Naruto holds the rights to the received recordings.
◆Currently, we intend to take 7-10 seconds of the material received; subject to alterations.
◆Material with content that goes against public order and standards of decency, contains religious or other solicitations as well as other material that is deemed inappropriate by the City of Naruto might not be used.
☆You can watch last year's "The Ninth Symphony from Home" here
【Contact】 Naruto City, Department for the Promotion of Culture and Exchange  (+81)88-684-1538